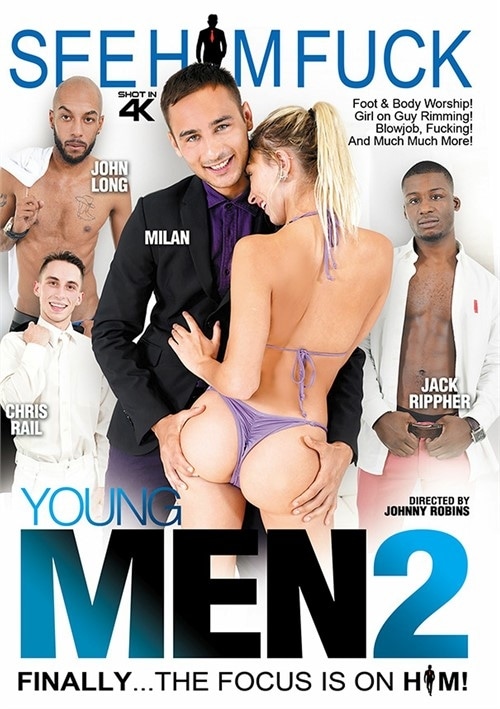 Chris Rail, Jack Rippher, John Long & Milan All Get VIP Treatment at USA's Rimming HQ
HOLLYWOOD – There are many ways to say "Happy Holidays," and the fine folks at See HIM Fuck chose to do it by releasing a new DVD: Young Men 2.
See HIM Fuck has been one of the great success stories of 2020, making their mark by turning cameras toward the guys and getting the ladies to show off their surprisingly good man-worship skills. We say surprising only because they ladies are so used to being pleased and being the absolute center of attention. See HIM Fuck is changing that.
This new DVD, the third overall from See HIM Fuck, stars Chris Rail, Jack Rippher, John Long and Milan with Melody Foxx, Molly Mae, Natalie Porkman and Chloe Temple. The guys are all new to this manner of shooting as well as the content, which makes for some sweet surprises, though, ultimately, they are all pros and turn in fine work.
The ladies all rub their men down with oil, hit all their intimate spots with hands, fingers, noses and/or tongues before a hot fuck session that will have guys' heads spinning. It really is something to see.
Chris Rail and Melody Foxx kick things off. Chris is a newbie who just got nommed for Best Male Newcomer at the 2021 AVN Awards. Melody is a curvy brunette who was eager to show Chris the best time he's ever had – and succeeds! Chris goes away stunned and wondering how he's going to get his girlfriend to learn some of the See HIM Fuck tricks.
Jack Rippher and his 11-inches of penile magic are up for an XBIZ Award come January, but this man isn't going to twiddle his thumbs until then. Instead, he'll be diddling beauties like Molly and what a job he did! Jack is something to see under regular circumstances, but in a man-worship scene like this, it's truly something else.
John Long has more than 100 scenes under his belt, but he'd never come across anything like he did with Natalie Porkman in this one. It was his first-ever rimming experience, and those are can't-miss See HIM Fuck scenes. It doesn't hurt that he's a helluva performer and Natalie is one of See HIM Fuck's most dependable rimmers with three scenes for the company.
Milan was the first guy to shoot a second scene for See HIM Fuck and this time he drew Chloe Temple. With first-time jitters out of the way, Milan goes in with expectations, but of course sexy Chloe immediately blows them out of the water. It's little wonder why they brought Milan back – he can roll with the punches and always pulls off a great scene.
SeeHimFuck.com is nominated for Best New Production Banner at the 2021 AVN Awards.
Check out the DVD Young Men 2 here.
FOR MORE:
Chris Rail: Twitter @ChrisRailXXX, OnlyFans @ChrisRailXXX.
Jack Rippher: Twitter @JRippher, OnlyFans @JackTheRippher. Booking at Hussie Models.
John Long: Twitter @JohnLong3X, OnlyFans @JLongXXX. Booking at 101 Modeling.
Milan: Booking at Hussie Models.
Melody Foxx: Twitter @Melody__Foxx, OnlyFans @MelodyFoxx. Booking at Hussie Models. She is available for BBGG, BG, BGB, BJ, bondage, creampie, deep throat, facial, fetish, GBG, GG, group, HJ, solo, taboo and toys.
Natalie Porkman: Twitter @NataliePorkmanX, OnlyFans @NataliePorkmanX.
Chloe Temple: Twitter @Senorita_Satan_, OnlyFans @Chloe_Temple. Booking at Hussie Models. Chloe is available for BBGG, BG, BGB, BJ, bondage, creampie, deep throat, facial, fetish, GBG, GG, HJ, solo, swallow, taboo, toys and her first blowbang is available.
You can find See HIM Fuck on Twitter at @SeeHimFuck and Instagram @SeeHimFck.
Press Release can be seen at Rising Star PR
---